Welcome!
Arbour Crest Tree Services Ltd. (Arbour Crest) is currently in it's 10th year providing expert tree care in central Saskatchewan and North to Cottage Country! We also provide landscaping and snow removal services for residential and commercial clients in Saskatoon and area.
Robin Adair, President, trained at Olds College in Olds, Alberta. He has extensive industry experience, is an ISA Certified Arborist, a CNLA Certified Landscape Technician and an ISA Certified Tree Risk Assessor.
Our staff at Arbour Crest are trained in the latest techniques for safe and efficient tree work and proper pruning practices. We take pride in helping our customers with their horticultural needs while creating beautiful landscapes.
Arbour Crest focuses on the health and beauty of your trees and landscape, ensuring many years of enjoyment.
Plant 4 Kids Program: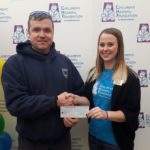 Every year, $5 from every tree we plant goes to support the Saskatchewan Children's Hospital Foundation. At the end of the year we tally up how many potted and basketed trees we have planted and make a donation to this very worthwhile organization.
Last year we planted 100 trees! Which meant we were able to make a $500 donation this year.
What's happening now at Arbour Crest:
'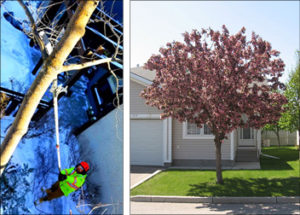 Tis the season for cherry pruning!
We are currently busy with Cherry season. Now's the best time to rid that tree of black knot fungus as well as give it a nice shape for summer. Thinning of fruit trees also helps with fruit production and reduces the chances of pests.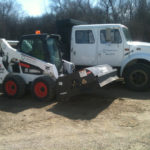 Lot Sweeping:
Soon we will be busy with Spring lot sweeping. We can also provide a water truck to help with dust control. Request a quote online here.
Tree Risk Assesments:
After the winter is a great time to have your trees assessed. We have 3 Certified Tree Risk Assessors on staff that can answer any and all of the questions you may have.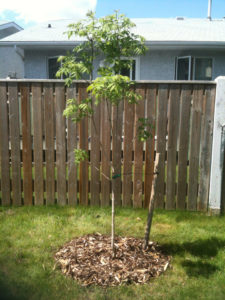 Professional Landscape Services:
We are excited for tree planting season and look forward to helping you out with any of your landscaping needs. From mulch delivery and installation to yard makeovers, we make sure the job is done right.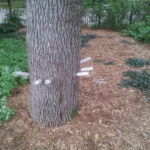 BioForest Tree Injection System for Pest Control:
As Spring comes, alot of pests start to re-emerge. We are pleased with our new injection system for pest control and look forward to seeing the results it will provide us again this season. Dealing with a pest problem but not sure what it is? Have a look at our Insect & Disease Control page or request a quote online.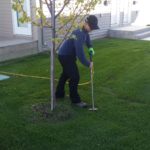 Deep-Root Fertilizer (DRF):
In the Spring and the Fall is when we recommend giving your trees (and shrubs) a nutritious boost. DRF can be included in your personalized Integrated Pest Management plan to give your trees (and shrubs) a solid plan for a healthy future.
Mission Statement:
From planting to pruning, we provide excellent customer service, and help protect our clients' landscape investment.

I contacted Arbour Crest to get smaller cuts -12" of wood for our smaller indoor fireplace. They delivered the wood to me the next day and all pieces were smaller cuts just liked I asked. When I got home there it was so nicely stacked in a clean orderly fashion ...
I want to express my thanks to your crew that recently cut down a large tree on our acreage. Right from the initial phone contact, to the appointment for estimating, to cutting down the tree, the entire process was handled very professionally. I would certainly recommend Arbour Crest.
We appreciate the work you all do. We will definitely refer people to use your services, thanks again!
I would like to compliment your three workers that removed our trees. They explained the job, asked questions and the clean-up of the yard was excellent. I gave your business card to one of our neighbours! Thanks again!
Your crew did an excellent job of pruning the tree, lots of comments from neighbours. Job well done!!!
Thanks for a job well done. I thought the crew was very professional, skilled and friendly. They left my yard tidy. I would recommend your service to anyone who needs a tree taken down.
Your girls were AMAZING!!! You have a great crew! How do I pay my bill????
Just a note to thank you for the work done with our trees today. We found your work crew to be knowledgeable, professional, working with care, and friendly. We were well satisfied with the end result.
When the crew came this week they worked efficiently and did a good job. They do not waste any time. They were pleasant to have in my yard. I will definitely recommend Arbour Crest to others! Thank you to all.