Welcome!
Arbour Crest Tree Services Ltd. (Arbour Crest) provides expert tree care in central Saskatchewan and North to Cottage Country. We also provide landscaping and snow removal services for residential and commercial clients in Saskatoon and area.
Robin Adair, President, trained at Olds College in Olds, Alberta. He has extensive industry experience, is an ISA Certified Arborist, a CNLA Certified Landscape Technician and an ISA Certified Tree Risk Assessor.
Our staff at Arbour Crest are trained in the latest techniques for safe and efficient tree work and proper pruning practices. We take pride in helping our customers with their horticultural needs while creating beautiful landscapes.
Arbour Crest focuses on the health and beauty of your trees and landscape, ensuring many years of enjoyment.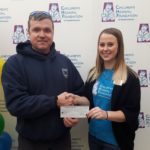 Plant for Kids Program:
Every year, $5 from every tree we plant goes to support the Saskatchewan Children's Hospital Foundation. At the end of the year we tally up how many potted and basketed trees we have planted and make a donation to this very worthwhile organization.
Last year we planted 80 trees! Which meant we were able to make a $400 donation this year.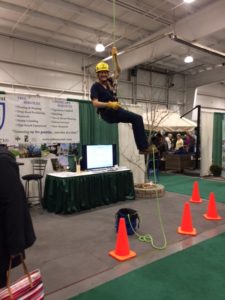 Gardenscape
March 24-26 2017 – Prairieland Park
What a great weekend we had at Gardenscape. We met alot of folks and our climbers got to do some demonstrations.
Stay tuned for more events Arbour Crest will be attending this year.
EVENTS Coming Soon: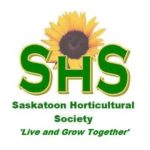 Tree/Shrub Pruning Workshop
Saturday April 22 2017 – 9:00am-12:30pm
Join ISA Certified Arborist Robin Adair for a hands-on pruning workshop. The pruning basics of how, when, where and why will be discussed in a class setting. Then a hands-on component will continue outside. The focus will be on proper pruning cuts on shrubs and fruit trees. As well, larger tree care will be discussed. Please bring your own: pruning tools, safety glasses and gloves, work clothes and questions. We look forward to see you attend this informative session. Cost is $30 and the course will be held at the Sherbrooke Center (401 Acadia Dr.). To register, please contact Don Greer at (306) 242-7945 or dwgarchitect@gmail.com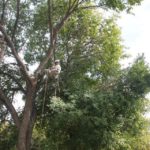 Prairie Chapter Tree Climbing Competition
August 25-27 2017 – Saskatoon, SK – Kinsmen Park
Come on down and get the chance to see Arborists from all over the prairies compete for the top spot in a weekend of tree climbing fun. Stay tuned here for more details or visit the ISA Prairie Chapter website to learn more!
NEW for 2017:

BaumaLite Tree Spade:
Our new tree spade can securely transport trees up to 2″ in diameter. Did you just plant a tree but are re-thinking it's location? Do you have a small tree nursery and want to create a shelterbelt on your property? Give us a call and we will let you know the best option.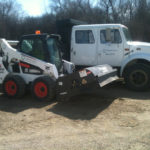 Lot Sweeping:
We use a Bobcat with a sweeper attachment, a dump truck and other tools to professionally clean your lot. We will also have a spray truck handy if we need to wet down the lots first just in case dust is a problem. Lot sweeping services provide an essential clean-up after a winter of gravel and salt. Call us soon for a quote and we will get you booked in!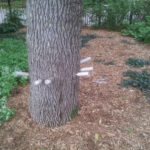 BioForest Tree Injection System for Pest Control:
Our new system for delivering effective pest control is the first in the province and is here to suit your needs. Our system allows us to inject the product into your trees systemically with little to no interference to the environment or beneficial insects. Treatments can last up to two years, further reducing environmental effects and lowering cost.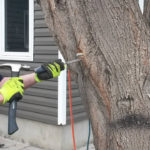 Tree Risk Assesments:
We are pleased to announce that three of our certified Arborists have earned their Tree Risk Assesment Qualification credentials. This credential promotes the safety of people and property by providing a standardized and systematic process for assessing tree risk. The results of a tree risk assessment can provide tree owners and risk managers with the information to make informed decisions to enhance tree benefits, health, and longevity.
Phone our office at 306.242.TREE(8733) or email us at

office@arbourcrest.com

for more information on any of our services or to book a consultation with an ISA Certified Arborist.
Mission:
From planting to pruning, we provide excellent customer service, and help protect our clients' landscape investment.