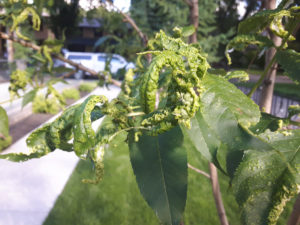 Cottony Ash Psyllid has over-taken the black ash and Manchurian ash in the City of Saskatoon. Pictured here is the effects the pest has on a leaf. Essentially, curling it up or "cauliflower-ing" it. 
Click here for more information on this destructive tree pest.
Welcome!
Arbour Crest Tree Services Ltd. (Arbour Crest) provides expert tree care in central Saskatchewan and North to Cottage Country. We also provide landscaping and snow removal services for residential and commercial clients in Saskatoon and area.
Robin Adair, President, trained at Olds College in Olds, Alberta. He has extensive industry experience, is an ISA Certified Arborist, a CNLA Certified Landscape Technician and an ISA Certified Tree Risk Assessor.
Our staff at Arbour Crest are trained in the latest techniques for safe and efficient tree work and proper pruning practices. We take pride in helping our customers with their horticultural needs while creating beautiful landscapes.
Arbour Crest focuses on the health and beauty of your trees and landscape, ensuring many years of enjoyment.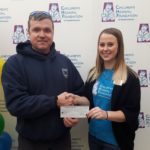 Plant for Kids Program:
Every year, $5 from every tree we plant goes to support the Saskatchewan Children's Hospital Foundation. At the end of the year we tally up how many potted and basketed trees we have planted and make a donation to this very worthwhile organization.
Last year we planted 80 trees! Which meant we were able to make a $400 donation this year.
EVENTS Coming Soon: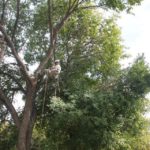 Prairie Chapter Tree Climbing Competition
August 25-27 2017 – Saskatoon, SK – Kinsmen Park
Come on down and get the chance to see Arborists from all over the prairies compete for the top spot in a weekend of tree climbing fun. Stay tuned here for more details or visit the ISA Prairie Chapter website to learn more!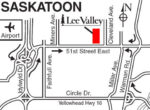 Prune Your Trees And Flowering Shrubs
Thursday September 14th – 5:30pm-8:30pm
Join ISA Certified Arborist Robin Adair for a hands-on pruning workshop. The pruning basics of how, when, where and why will be discussed in a class setting. To register, please contact Lee Valley Tools at 306.652.6902 or pop in to their store located at 820A 51st Street East in Saskatoon
NEW for 2017:

BaumaLite Tree Spade:
Our new tree spade can securely transport trees up to 2″ in diameter. Did you just plant a tree but are re-thinking it's location? Do you have a small tree nursery and want to create a shelterbelt on your property? Give us a call and we will let you know the best option.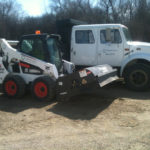 Lot Sweeping:
We use a Bobcat with a sweeper attachment, a dump truck and other tools to professionally clean your lot. We will also have a spray truck handy if we need to wet down the lots first just in case dust is a problem. Lot sweeping services provide an essential clean-up after a winter of gravel and salt. Call us soon for a quote and we will get you booked in!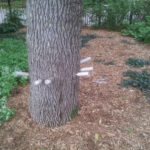 BioForest Tree Injection System for Pest Control:
Our new system for delivering effective pest control is the first in the province and is here to suit your needs. Our system allows us to inject the product into your trees systemically with little to no interference to the environment or beneficial insects. Treatments can last up to two years, further reducing environmental effects and lowering cost.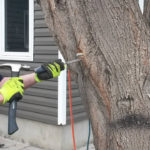 Tree Risk Assesments:
We are pleased to announce that three of our certified Arborists have earned their Tree Risk Assesment Qualification credentials. This credential promotes the safety of people and property by providing a standardized and systematic process for assessing tree risk. The results of a tree risk assessment can provide tree owners and risk managers with the information to make informed decisions to enhance tree benefits, health, and longevity.
To request a quote please click here.
Or phone our office at 306.242.TREE(8733) 

for

 more information on any of our services or to book a consultation with an ISA Certified Arborist.
Mission:
From planting to pruning, we provide excellent customer service, and help protect our clients' landscape investment.
I want to express my thanks to your crew that recently cut down a large tree on our acreage. Right from the initial phone contact, to the appointment for estimating, to cutting down the tree, the entire process was handled very professionally. I would certainly recommend Arbour Crest.
We appreciate the work you all do. We will definitely refer people to use your services, thanks again!
I would like to compliment your three workers that removed our trees. They explained the job, asked questions and the clean-up of the yard was excellent. I gave your business card to one of our neighbours! Thanks again!
Your crew did an excellent job of pruning the tree, lots of comments from neighbours. Job well done!!!
Thanks for a job well done. I thought the crew was very professional, skilled and friendly. They left my yard tidy. I would recommend your service to anyone who needs a tree taken down.
Your girls were AMAZING!!! You have a great crew! How do I pay my bill????
Just a note to thank you for the work done with our trees today. We found your work crew to be knowledgeable, professional, working with care, and friendly. We were well satisfied with the end result.
When the crew came this week they worked efficiently and did a good job. They do not waste any time. They were pleasant to have in my yard. I will definitely recommend Arbour Crest to others! Thank you to all.